Share:
---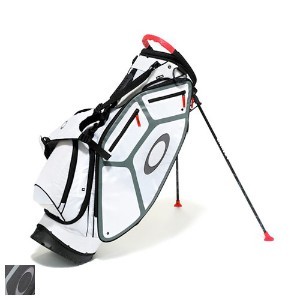 Oakley Fairway Stand Bag Review
Lightweight and Durable
By David Theoret
Oakley continues to forge ahead and create a presence in golf. After getting out of the footwear business, they have gone full bore into golf bags and sunglasses specifically for golfers. Their newest offering in the golf bag arena is the Fairway Stand Bag. Weighing in at a scant 7 pounds, this 100% polyester carry bag features a 4-point strap system, 5-way divider and 7 pockets, more than enough to haul everything you'll need during a round of golf.

Let's start at the top and work our way down. The 7" opening is divided into 5 slots and holds a complete set of clubs easily. Although the dividers are not sewn all the way down, I never had a problem getting clubs out or putting them back in. In fact, I also have an Orange Whip training stick and alignment rods in my bag and everything moves in and out quite easily. A large handle with Oakley's patented Octostick grip makes lifting this bag effortless.

If you like to walk and carry your bag, Oakley's 4-point strap system with Red Code™ shoulder straps provide comfort no matter what you've got crammed in the pockets. Speaking of pockets, the fairway stand bag has seven of them, including a velour lined valuables pocket that will keep things safe, secure and dry; it's big enough for your wallet AND smartphone. Just below the valuables pocket is another pocket that's perfect for golf gloves - new or used. The water bottle pocket is insulated, keeping your cold beverages colder that much longer. The full-length side pocket will hold a pair of shoes and jacket easily and also has a mesh pocket inside to provide extra security.

On the front are two pockets - one for golf balls and a second just behind it that's an insulated cooler. Add bonus - this section of the nag completely unzips, making it a lot easier to ice down your favorite libations and zip it back into position on the bag. The seventh pocket is located just below the water bottle pocket and is perfect for tees, pencils and ball markers. The left side has a pad for the hip, to make the carrying process that much more comfortable.

To me, the key component to any stand bag is the stand. Most of the bags I've had in the past have given out, the legs splayed out like Bambi on a bender. The mechanics and guts of the kick stand system are hidden behind a layer of fabric, meaning they won't get caught up on anything, say when you pull it in and out of the trunk (based on past experiences). The kick stand system and spring seems to be pretty durable.

Last but not least, it's important for a stand bag to be able to adapt. What I mean is this: no one walks ALL the time; sometimes you're fortunate to hitch a ride on a cart. When this happens, your stand bac needs to fit on a golf cart, cleanly and efficiently. No legs popping out in front as you drive down the fairway and, most importantly, everything must be easily accessible. The Fairway Stand Bag meets these criteria; there's even a special channel to store the carry strap out of the way of pockets and zippers.

Oakley's Fairway Stand Bag is available in either White or Black. There are large elliptical "O" logo on the full-length pocket to help identify the brand. And, if that's not enough, Oakley is spelled out on the other side pocket. The Fairway Stand Bag retails for $160.00 and can be purchased on their website, www.oakley.com.


Article Tags: Oakley, golf nag, stand bag, Oakley Fairway Stand Bag
Revised: 07/20/2017 - Article Viewed 721 Times
Share Comment
Written By: David Theoret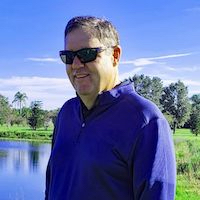 David Theoret has been in the golf and golf travel industry for over 10 years, primarily selling online advertising. For the past seven years, he has also been a golf writer, reviewing golf courses, resorts, destinations, equipment, golf apparel, and training aids - the latter of which never seems to help. David's articles and reviews have been posted on many golf travel and equipment websites.

Growing up in Southwestern Ontario, Canada, it was naturally assumed he would play hockey. Beginning at the age of 3 and continuing into his late 30's, he did just that. However, after one too many pucks to the head, he realized that golf was a lot easier on the body (whoever said hockey players were slow) and took the game up.

After moving to Florida and accepting a position with TravelGolf Media (now part of GolfNow) his love for the game grew exponentially. Most Saturdays you will find him on a course somewhere in Florida or on the practice range reinforcing his bad habits. David plays to a 10 handicap - unless there is money involved in which case it goes considerably higher. He currently resides in Lakeland, FL with his wife Belinda and their two "kids", Madyson and Molly.