Share:
Wellington National Golf Club
- New Owners, New Opportunities
By David Theoret
Chip Smith has been around the golf industry long enough to know a good deal when it's staring him in the face. His Atlantic Golf Management Company operates several high caliber courses in the Myrtle Beach area so, when the opportunity arose to purchase the former Binks Forest Golf Club in Wellington, FL, Chip Smith and then partner Doug Marty jumped at the chance. The pair felt they were buying the course at the right price and were confident that by doing some renovation work on both the course and the clubhouse, they could bring a high-quality golf and country club to Wellington. Marty was having so much fun with his new golf project that in early 2019 he bought out Atlantic Golf Management's interest in the property. The new logo reflects the fact that Wellington is indeed horse country.

The golf course at Wellington National is a completely restored Johnny Miller design that originally opened for play as Binks Forest Golf Club in 1990. Shortly after opening the course was ranked by Golf Digest as one of the nation's "Top 75 Private Golf Courses." The golf course sits on more than 260 acres of prime real estate in the heart of Wellington, Florida. Wellington National underwent a complete renovation in 2007 at the hands of architect Gene Bates; the current owners added their personal touch to the course more recently include some re-sodding, weed suppression, laser leveling tee boxes and filling the sand traps with beautiful new sand. The result is a course that is both fun to play and pleasing to the eyes.

Wellington National can play as long as 7,125 yards from the Black Tees, with a course rating of 75.1 and a slope of 144 or as short as 4,226 yards from the Orange Tees (65.6/116) Through combining a couple of sets of tees, the scorecard provides seven distances with one that is sure to fit every player's game.

With all of the pine and oak trees on the property, you sometimes feel like you're in the Carolinas rather than Florida. The trees create several narrow corridors that must be played through and can be a little intimidating but offer a good and fair test of golf. The greens are in fantastic shape and roll fast and true.

There are several memorable holes at Wellington National, one of which is the 2nd hole. It's a slight double dogleg that bends slightly to the left before curling back to the right and plays 490 yards from the White Tees. There's a stream that crosses the fairway about 250 yards from the tee, so something less than driver may be needed. Avoid the sand traps on either side of the fairway on your layup shot and you'll be faced with a short pitch into a well undulated green.

Number 12 is the first par 5 on the back nine and is pretty much straight away. The hole plays 484 yards from the White Tees with a fairway bunker on the right which can easily come into play as can the water down the left. Don't push your layup shot right or you could easily find the water that hugs the cart path. Play your approach shot to a double green shared with Number 15 and fronted with a large bunker on the left. Keep the ball in play and you can put up a good score on this hole.

The 18th hole is a challenging par 4 that plays back to the clubhouse. From the White Tees, the hole plays 344 yards and features a narrow landing area for your tee shot between a lake on the right and sand on the left. Regardless of your position in the fairway off the tee, or how far you hit it, this hole is all about your second shot. You'll need to carry your approach shot over the water and a long, deep bunker that guards the middle of this odd-shaped green. This hole can be the difference between winning and losing your match.

Practice makes perfect and Wellington National has the facilities and personnel to help with your game improvement. There's a full-length range that has been tripled in size under the new ownership as well as a short game area and practice putting green. The friendly and knowledgeable staff are there to help with either private or group lessons. Wellington National has a full-service golf pro shop that is open year-round. They offer a good selection of clubs, bags, shoes, gloves and golf balls as well as logoed apparel from top name manufacturers.

During my visit to Wellington National, I had the opportunity to sit down for lunch with General Manager Ted Strelec and talk about all that is going on at the Club. Strelec was handpicked by the new owner after spending 27 years at Bear Lakes Country Club in West Palm Beach. We talked about changes that had been made at the club, both to the course and the renovation of the clubhouse. During our conversation, I couldn't help but get the idea that Strelec and his wife are somewhat big-time foodies. They go out of their way to find eclectic dining spots that offer out of the ordinary dishes.

That being said, it's evident that he has played a major role in creating the menu; before we even sat down, he placed an order for Wellington's National's signature appetizer, Roasted Brussel Sprouts. To say they were tasty is an understatement; my wife, who is not a fan of said vegetable thoroughly enjoyed them as did everyone at the table. Other uncommon "golf club" entrée such as Bang Bang Chicken and the Smoked Fish dip seemed to have a little added foodie touch to them, especially when it came to the presentation.

In addition to golf, Wellington National offers its members several other special amenities. As part of their renovation project, the outdoor swimming pool has been completely refurbished and looks great. Members are invited to spend time relaxing by the pool and soak in some of the beautiful Florida sunshine. Lay out a towel, sit under the shade of an umbrella or take the kids for a dip in the pool.

The Yoga Room is open for private sessions and invigorating classes where you can explore the fundamentals of yoga. Your yoga fitness regimen will help you develop mind and body as you connect with your inner self.

When it comes to dining, members have a couple of options. Wellington National's Wine Bar allows members and their guests to enjoy a wine-friendly world cuisine. Dishes range from shareable small plates to elegant entrees, all served in an intimate atmosphere.

The Champions Bistro is a more casual and relaxed setting and offers members a chance to escape and enjoy delicious fresh food either inside or on our travertine terrace, the 18th Outlook. Dine on one of The Champions Bistro's American-fare signature dishes, vegetarian selections, and desserts. There's a full-sized bar with all of your favorite adult beverages and the espressos and cappuccinos are outstanding.

Wellington National's Grand Ballroom is the premier event facility in the area with room for over 500 people as well as an additional 200 guests on the piazza. The room features vaulted ceilings with an open architecture and rich wood-style floors. When you couple the size of the venue with the gourmet dining offered by the kitchen it's easy to see why the Grand Ballroom has become the area's preferred venue for weddings, charitable event galas, and corporate gatherings.

The Club provides a picturesque and elegant setting for weddings, with tropical Florida serving as the backdrop. The bride, groom and all of their guests have access to everything Wellington National has to offer both inside and out, with the lush landscaping and modern architecture.

All in all, Wellington Nation is poised to be the private golf and country club in the Wellington area, For more information on how to become a member or to arrange a visit, give them a call at (561) 333-5731 or visit them online at www.wellingtonnationalgolfclub.com.

Article Tags: Wellington National Golf Club, Golf in South Florida, Golf courses in Florida, Luxury living in Florida, Wellington Florida
Revised: 04/15/2020 - Article Viewed 613 Times
About: David Theoret
---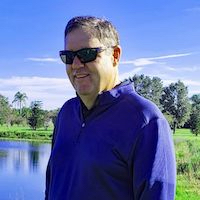 David Theoret has been in the golf and golf travel industry for over 10 years, primarily selling online advertising. For the past seven years, he has also been a golf writer, reviewing golf courses, resorts, destinations, equipment, golf apparel, and training aids - the latter of which never seems to help. David's articles and reviews have been posted on many golf travel and equipment websites.

Growing up in Southwestern Ontario, Canada, it was naturally assumed he would play hockey. Beginning at the age of 3 and continuing into his late 30's, he did just that. However, after one too many pucks to the head, he realized that golf was a lot easier on the body (whoever said hockey players were slow) and took the game up.

After moving to Florida and accepting a position with TravelGolf Media (now part of GolfNow) his love for the game grew exponentially. Most Saturdays you will find him on a course somewhere in Florida or on the practice range reinforcing his bad habits. David plays to a 10 handicap - unless there is money involved in which case it goes considerably higher. He currently resides in Lakeland, FL with his wife Belinda and their two "kids", Madyson and Molly.

---
More Articles by David Theoret