Share:
Revo Sunglasses
- Protect Your Eyes and Look Great.
By David Theoret
Recently, Revo entered the market for sport-specific eyewear. For golfers, two models to consider are their Border and Descend models. Both are fully functional sunglasses that eliminate glare and make it easier to follow the ball of the clubface in bright sunlight. They are available in both rimmed and rimless models.

One nice thing about rimless sunglasses - especially as it pertains to golf - is that sweat won't drip off your face and well up in the bottom of the rim, it simply falls to the ground. Another benefit is that your peripheral vision is uninterrupted, giving you a panoramic view of the landscape. Revo's Descend sunglasses are available in two models, the Descend N, which I assume stands for Normal and the Descend XL, which has a larger lens. I'm not sure there is a lighter frame on the market and with Revo's MotionFit design an elastomeric nose pad and temple tips, you're assured of a snug, secure fit without any unwanted pressure points.

Revo's high-contrast polarized Serilium+ lenses are lightweight, impact-resistant and reduce glare and the 8-base lens technology give more of a curved profile, temple to temple while Filtering out harmful UV, HEV, and Blue Light. Revo sunglasses are digital device-friendly and enhance the clarity of digital screens. All of these features make the Descend N and Descend XL sunglasses the perfect choice for golfers. Both Descend models are available in 8 frame/lens combinations and are perfect for men and women.

If you prefer rimmed sunglasses, check out the Revo Border. Border has a classic wrap design which offers a bit more coverage and is designed for peak performance and protection. Its extra-large fit provides maximum comfort for larger faces. The signature Revo lens technology was originally developed by NASA and ensures unparalleled visual clarity. The integrated spring hinges and adjustable non-slip elastomeric pads are made from slip-reducing rubber and keep the fit flexible and secure. Border offers the same lens technology as the Descend models, so you'll see the course in a lot more detail.

For more information or to order your next pair of Revo sunglasses, visit them at www.revo.com.

Article Tags: REVO Sunglasses, REVO Harness, Revo Zinger, Golf Sunglasses, Descend Sunglasses, Border Sunglasses
Revised: 04/10/2020 - Article Viewed 835 Times
About: David Theoret
---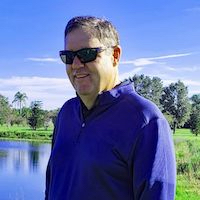 David Theoret has been in the golf and golf travel industry for over 10 years, primarily selling online advertising. For the past seven years, he has also been a golf writer, reviewing golf courses, resorts, destinations, equipment, golf apparel, and training aids - the latter of which never seems to help. David's articles and reviews have been posted on many golf travel and equipment websites.

Growing up in Southwestern Ontario, Canada, it was naturally assumed he would play hockey. Beginning at the age of 3 and continuing into his late 30's, he did just that. However, after one too many pucks to the head, he realized that golf was a lot easier on the body (whoever said hockey players were slow) and took the game up.

After moving to Florida and accepting a position with TravelGolf Media (now part of GolfNow) his love for the game grew exponentially. Most Saturdays you will find him on a course somewhere in Florida or on the practice range reinforcing his bad habits. David plays to a 10 handicap - unless there is money involved in which case it goes considerably higher. He currently resides in Lakeland, FL with his wife Belinda and their two "kids", Madyson and Molly.

---
More Articles by David Theoret